The drive from Colorado to Utah is one of the most scenic in the country. The views are vast and varied, and exciting landmarks dot the journey. But for all its natural beauty, the trip would not be possible without the man-made marvel that is the Federal Highway Administration's (FHWA) Colorado to Utah Road. The FHWA is responsible for maintaining and improving our nation's highways. They did an exemplary job on this particular stretch of road. From start to finish, the highway is a work of art, and it's thanks to their hard work we can enjoy this amazing drive.
The construction of I-70 in Colorado and Utah is considered an engineering marvel. The route passes through three different mountain ranges with heights that reach up to 11 thousand feet. The Eisenhower Tunnel on this highway has an elevation surpassing any other point along with our country's iconic system – it's 3,401 meters above sea level!
I-70 is the fifth-longest freeway in the country, running from I-15 near Cove Fort, Utah, to a Park and Ride site just off I-695 in Baltimore, Maryland. The Interstate passes through or is next to several significant cities, including Denver, Topeka, Kansas City, St. Louis, Indianapolis, Columbus, Pittsburgh, and Baltimore. According to the Federal Highway Administration, the portion of I-70 through Glenwood Canyon, Colorado, completed in 1992, was the final element of the Interstate Highway system to open to traffic, as initially scheduled.
Did you know that Dwight Eisenhower, the American President, was no stranger to the world of war? He was instrumental in liberating Europe from Nazi Germany as commander-in-chief of Expeditionary Forces. However, when World War II ended in 1945, he was convinced that a new war with the Soviet Union was imminent. For this reason, once elected president, he insisted on constructing a country-wide highway network in the United States to facilitate armed services troop mobility and allow residents to flee large cities immediately in the event of a nuclear attack. Eisenhower's planned Interstate Highway System was completed long after his death. The final segment of the originally planned network was Interstate-70 in Colorado. The rugged terrain and high complexity of Interstate-70 in Colorado contributed to its completion in 1992, 35 years after the Federal Aid Highway Act of 1956 was passed. Apart from being an engineering marvel, the I-70 corridor in Colorado is arguably one of the most beautiful segments of the entire network of interstate highways, nestled in deep canyons of the Colorado River and surrounded by snow-capped peaks of the Rocky Mountains.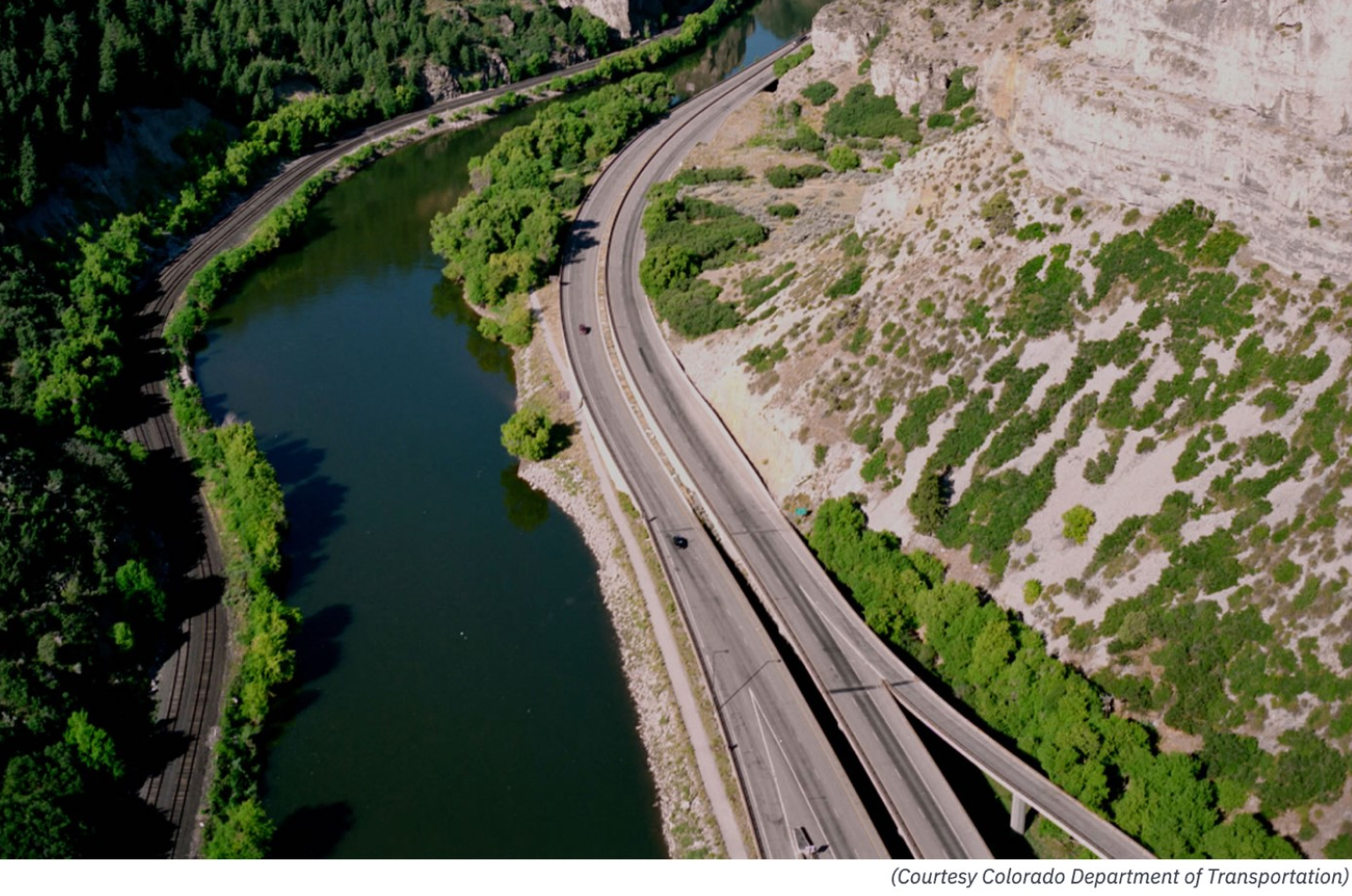 The train ride on the Utah Denver over the Colorado Rockies is a wonderful experience.
For travelers seeking unrivaled western wanderlust, a road trip to Utah and Colorado will prove to be ultimate. As a bonus, this loop is great for people who haven't been out West before or live near a giant mammoth in Colorado but haven't been to some of its best places. On your Utah and Colorado road trip, you will see two national monuments and two national parks, three famous mountain towns, and a lot of wilderness! Mazes of narrow canyons and wildflower-strewn alpine meadows are just the start of all the beauty that awaits you on the way.
Final Thoughts
Interstate-70 unites the state through the Rocky Mountains and the Continental Divide, enhancing connection, reliability, and travel safety between east and west. I-70 has had a significant impact on tourism in Colorado, as on the efficiency and safety of people and commodities traveling through the Rocky Mountains. Indeed, Interstate 70's completion through Colorado's Rocky Mountains was one of the greatest engineering marvels in US history and was critical to the high country's tourism industry!